Current and Past Work
We have over many years been engaged in an interesting array of assignments:
a feasibility study for an underground nickel mine;
owner mining versus contractor mining studies;
expert witness assignments on several cases;
an ore blending study;
audit of a mining plan for a mine in France;
a bank audit of a Ni mine in WA and a gold mine in New Zealand;
assistance with the sale of an interest in a JV;
a feasibility study for two different tantalite projects;
involvement in the preparation of an IPO prospectus;
mining contract evaluations;
a feasibility study for a narrow vein underground gold mine;
formation of a production joint venture;
a gold mine acquisition and subsequent handover and re-financing;
finalisation of a project finance facility;
a mining equipment study in Ghana;
a manganese scoping study;
various iron ore mining studies;
work on a copper mine in the Democratic Republic of Congo;
VALMIN mine evaluations in Mongolia, Indonesia, Niger, Australia and Kazakhstan and
Expert advice on a supply and erect contract in Russia worth more than $100M.
Our current work involves gold, tantalite, base metals rare earths and uranium.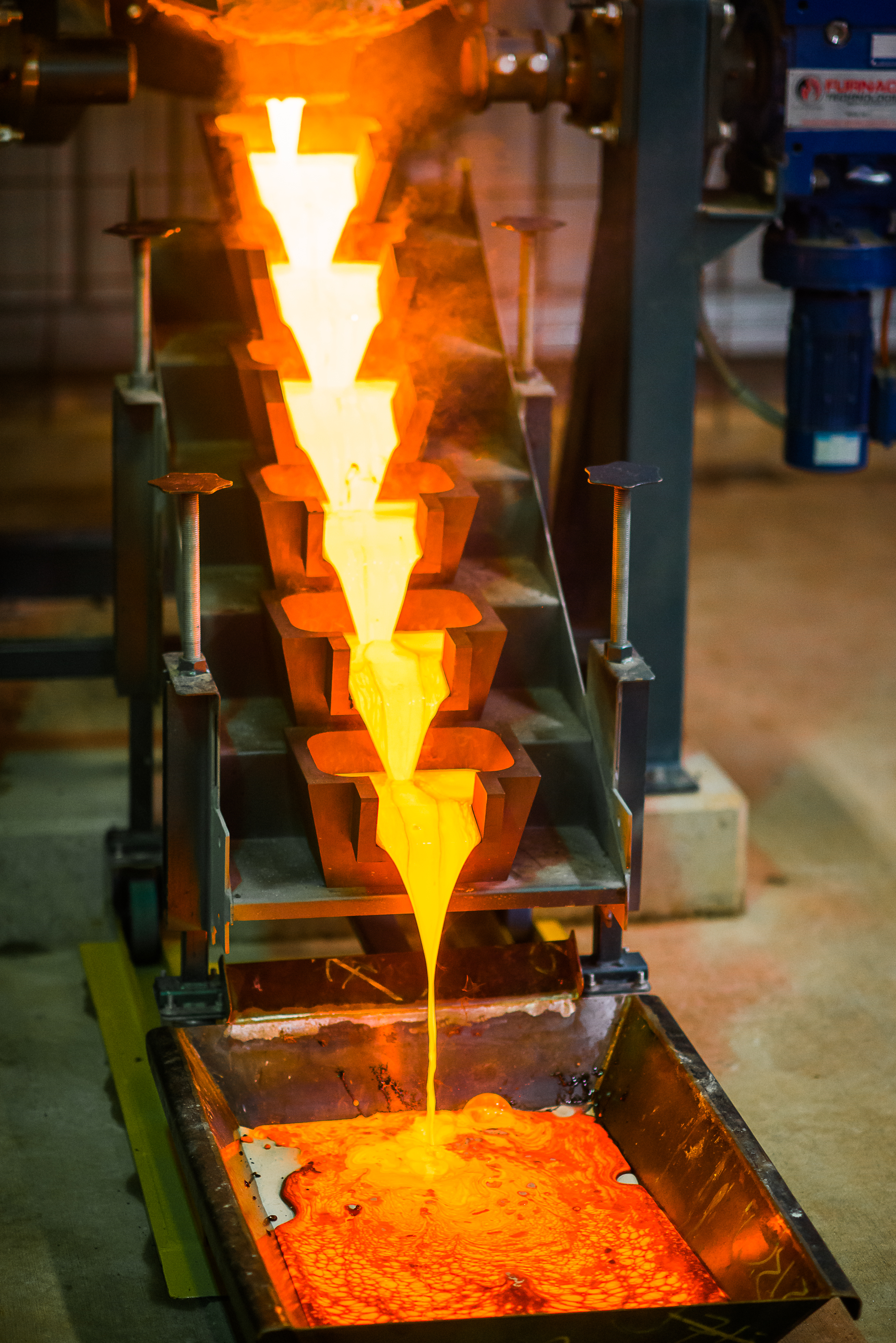 A cascade gold pour at Alkane's Tomingley gold mine opening, March 2014.
AusIMM
(The Australasian Institute of Mining and Metallurgy)
Elections were held in December 2000 for the new AusIMM board of directors. JSD was elected as an AusIMM Director for a three year term. He was subsequently re-elected for a further three year term ending in 2006.
In 2007 John was awarded the Beryl Jacka Award "...for extraordinary and sustained service to the AusIMM". This is one of the Institute's top three awards, along with the Institute Medal and the President's Award.
In late 2017, John was again elected to the AusIMM for a three year term commencing in 2018.
see link to AusIMM web site)
MICA Inc
(The Minerals Industry Consultants Association Inc)
John Dunlop is a director and former Chairman of MICA the Minerals Industry Consultants Society of the AusIMM board of directors. MICA has a very informative web site listing all its available members, together with their key competency areas.
MICA is completing a merger with the AusIMM which should be complete by the end of 2023.
The AusIMM Mining Society
In August 2001 the AusIMM launched the first of its professional interest groups, or societies - The Mining Society. John has since that time served on the Society's interim board of directors and was until recently on the steering committee.
Other Items of Interest
(Some not so new, but readers keep asking...)
John Dunlop was climbing in the New Zealand Southern Alps in December 2000 (summited Mt Cook), and in the New Year 2001 was walking the Queen Charlotte Track in the NZ South Island.
In April and May of 2001, John was away in China tackling the Mallory Route on the North Ridge of Mt Everest. Two members of the team reached the summit (8848m) on 22 May, one without using supplementary oxygen.
2002 was quiet (were we recovering or was it rugby injuries?).
2003 saw John in the Sahara, 1500km south of Algiers in the Hoggar region. Tuaregs and camels, but no snow.
In June and July of 2004 John was in the Pakistani Karakoram climbing the 8000 metre Broad Peak, adjacent to K2. It was his fourth Himalayan high altitude expedition. Two members of the team successfully reached the summit; all returned safely.
(see link to Everest web site, then follow the links from there to K2 and Broad Peak)
In Christmas - New Year 2005-6, a team planned to sail a yacht to the Antarctic Peninsula from the southern tip of South America. This was to involve visiting some Antarctic research stations and climbing some remote peaks in the wilderness of the Home of the Blizzard. Unfortunately, the trip was deferred.
In July 2007 John was invited to join the board as Chairman of the newly formed Drummond Gold Ltd. In the same year he was awarded the Beryl Jacka Award, one of the AusIMM's top awards, along with the President's Award and the Institute Medal.
2008 saw the establishment an office and alternative base in Queensland. The world financial contraction has seen us focus more on domestic assignments.
2010 and 2011 were taken up with site work in Egypt.
From 2012 onwards, John has been assisting a Hong Kong based financial advisory firm as Principal Mining Representative, on assignments in Mongolia, Indonesia and recently in Niger.
In 2015 John travelled to Antarctica, South Georgia and the Falkland Islands.
In 2016 he travelled to the Scottish Western Isles as well as the Arctic Circle at Svalbard. Circled home via Thailand and Cambodia.
In 2021 he kayaked the Three Capes in Tasmania and returned in 2022 to raft the 120 km of the notorious Franklin River. (click here for images)